Wound Dressing Manufacturer & Supplier
At JINYE, we take pride in being a leading manufacturer and supplier of high-quality medical wound dressings. Our extensive range includes hydrocolloid wound dressings, foam wound dressings, non-woven wound dressings, seaweed salt silver ion wound dressings, sterile wound dressings, and more. We understand that each patient's needs are unique, which is why we offer customizable solutions.
With years of experience in the industry, we have earned a reputation for excellence. Our products are trusted by healthcare professionals worldwide, making us a preferred choice in over 100 countries.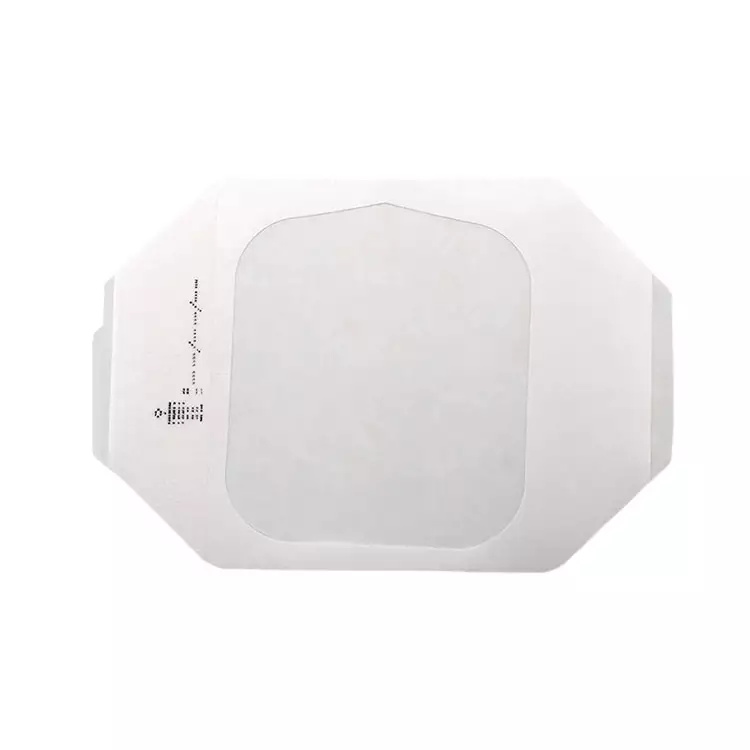 PU Film Transparent Wound Dressing
Seaweed Salt Silver Ion Dressing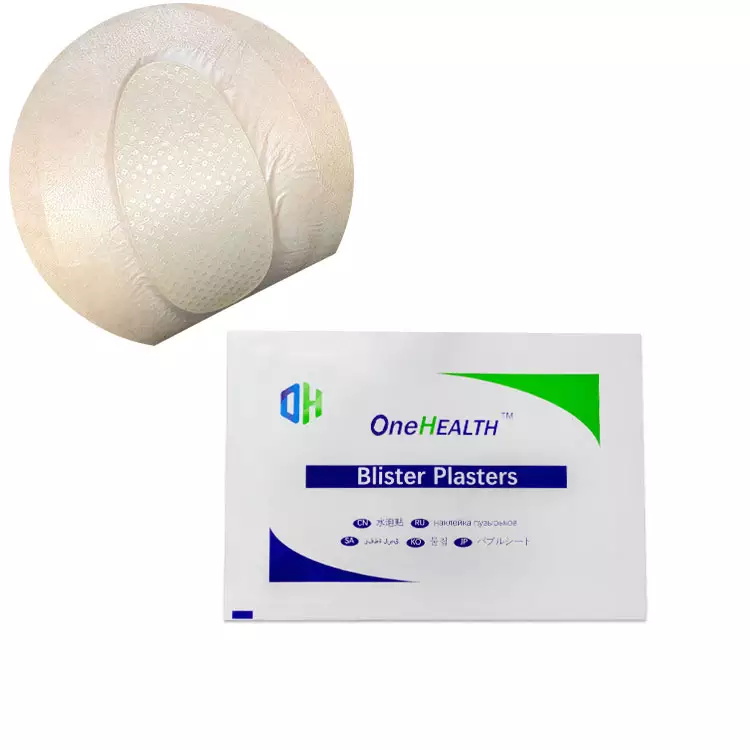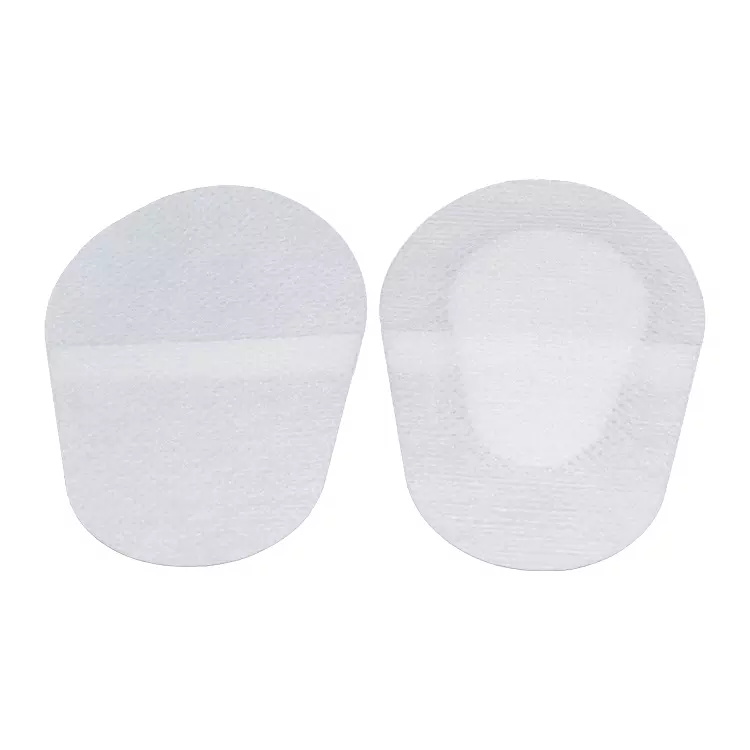 Medical Hydrocolloid Wound Dressing
Material: Hydrocolloid
Size: 10x10cm or customized
Color: Transparent
Application: Dermal Ulcers, Burns, Skin Donor Sites
Type: Biologically Active Dressing
Feature: Anti-allergy, Ventilation, Waterproof, Eco-Friendly
Advantages of Hydrocolloid Wound Dressings:
1. Maintain Moist Wound Environment: They keep the wound moist, creating a low-oxygen, slightly acidic environment that accelerates wound healing.
2. Autolytic Debridement: These dressings have self-dissolving properties, aiding in wound debridement.
3. Absorb Low to Moderate Exudate: Hydrocolloid dressings are effective at absorbing low to moderate levels of wound exudate.
4. No Need for Additional Dressings: They eliminate the need for external dressings.
5. Waterproof, Antimicrobial, and Insulating: Hydrocolloid dressings are waterproof, antimicrobial, and provide insulation, making them suitable for use under pressure.
6. Gel Formation and Nerve Protection: They form a gel that protects exposed nerve endings, reducing pain and preventing further mechanical damage.
Hydrocolloid dressings are suitable for superficial and partial-thickness wounds, stage II to III pressure ulcers, wounds with low to moderate exudate levels, yellow slough, and necrotic wounds. They can be used as external dressings.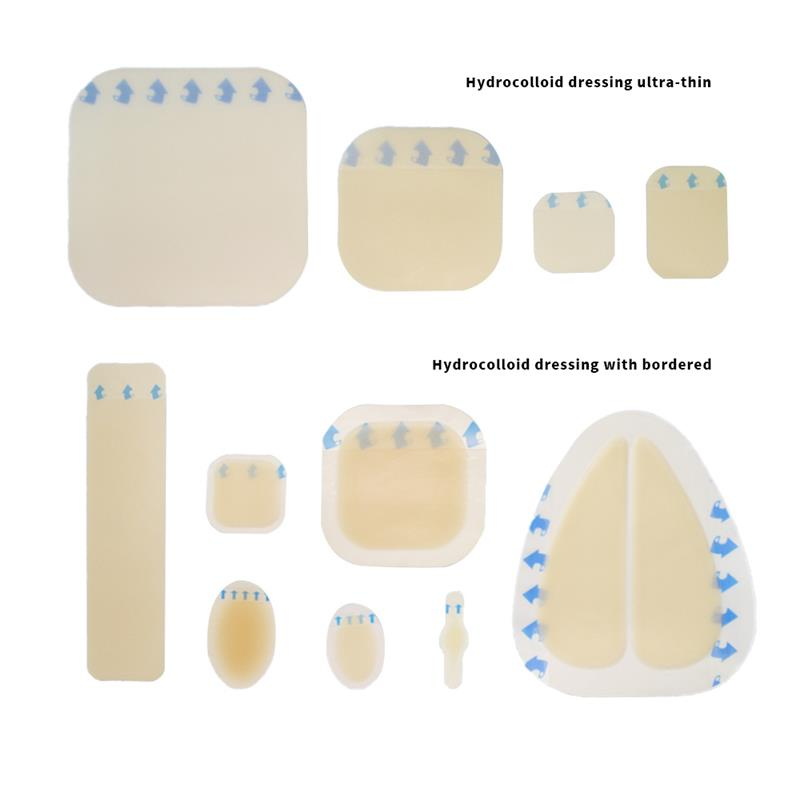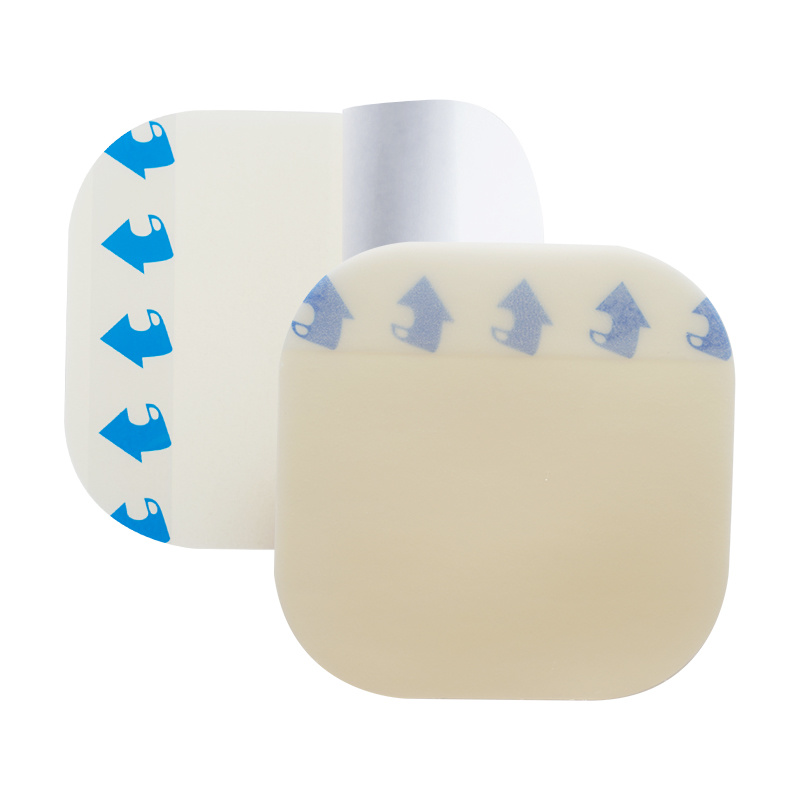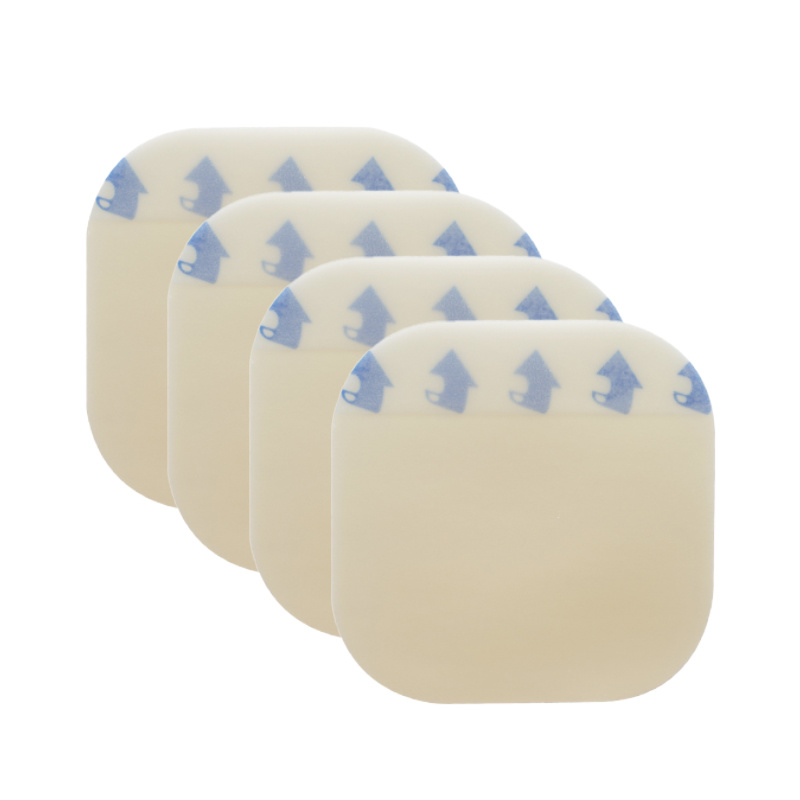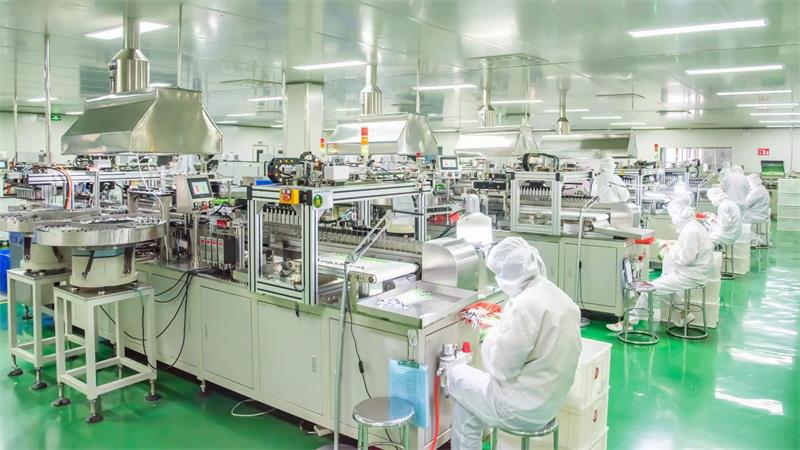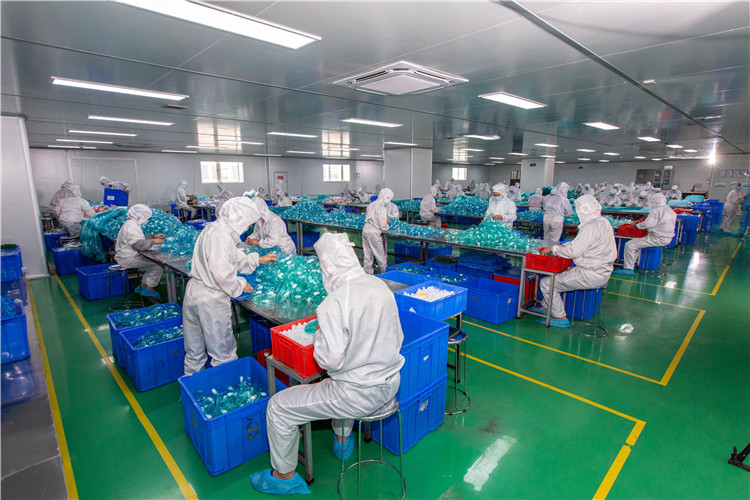 Medical Silicone Scar Wound Dressing/Silicone Scar Sheet/Silicone Scar Tape
Material:  Silicone, PU Film, Hot Melt Adhesive
Size: 7*3cm, 15*5cm, 30*5cm,  or customized
Color: Beige
Application:  Scar Removal
Feature: Anti-allergy, Ventilation, Waterproof
Silicone gel scar dressings are sheet dressings composed of a composite layer, a silicone gel layer, and an isolation membrane. They are soft, transparent, self-adherent, dense medical silicone sheets that are non-toxic, non-irritating, and non-antigenic to human skin. They provide safe and comfortable adhesion and are suitable for various types of hypertrophic scars.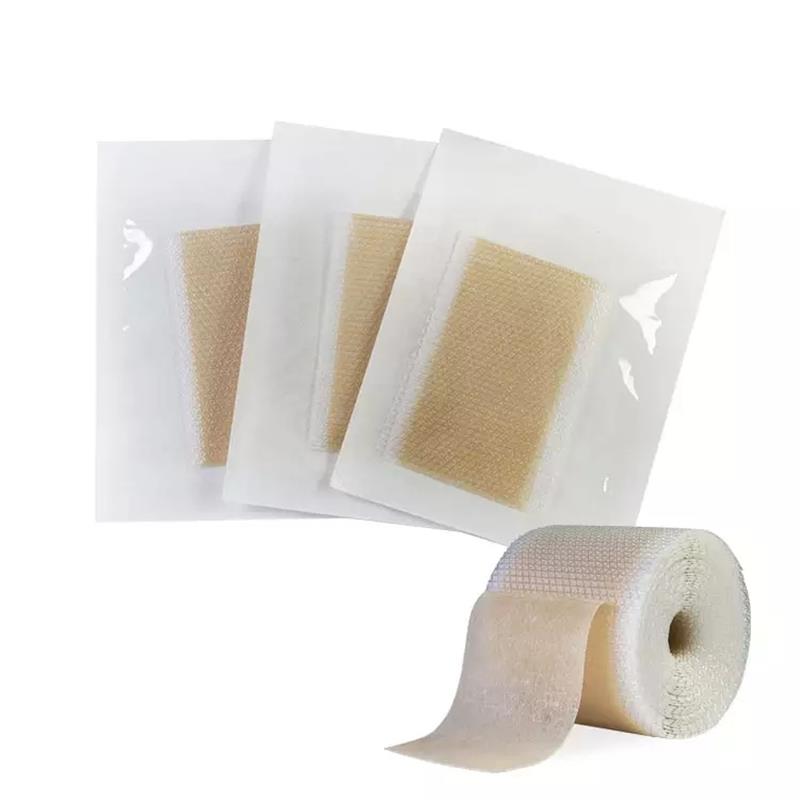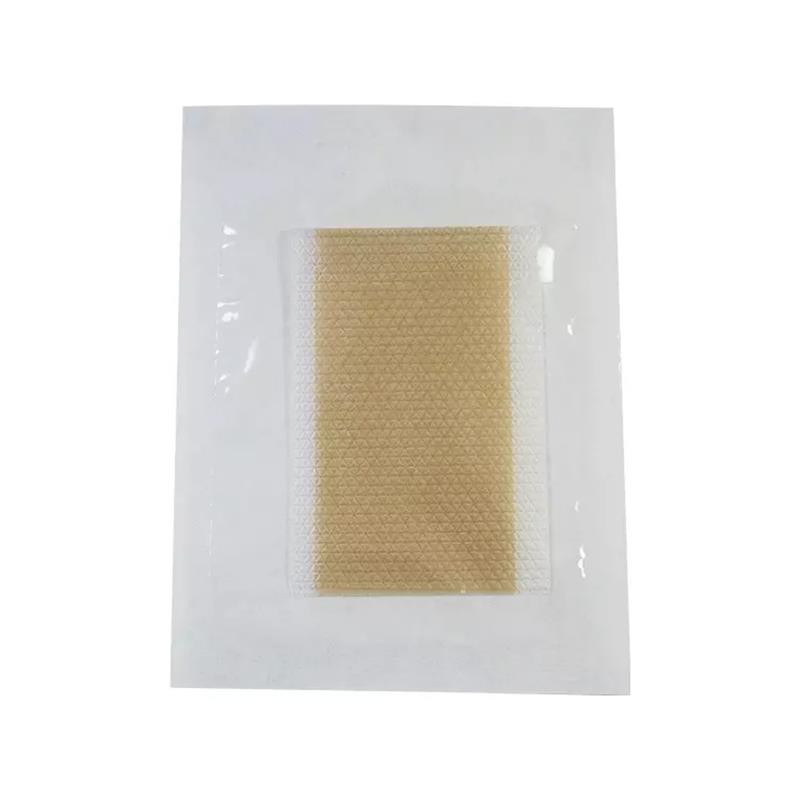 Medical Silicone Foam Wound Dressing
Material: PU Film, Silicone Adhesive Layer, Foam Pad
Size: 5x5cm, 7.5×7.5cm, 10x10cm, 15x15cm
Color: Skin Color
Application: Pressure ulcer, leg ulcer, Non-infected diabetic foot ulcer, Donor sites, Skin abrasions, Post-operative wound, Lacerations and abrasion
Advantages of Foam Wound Dressings:
1. Effective Barrier: The semi-permeable surface membrane acts as a barrier, preventing foreign particles from entering and reducing the risk of infection.
2. Convenience and Conformity: These dressings are easy to use and highly adaptable. They can be used as whole pieces or trimmed to fit the wound.
3. Rapid and High Exudate Absorption: Foam dressings quickly and effectively absorb excess wound exudate, reducing saturation.
4. Maintain Wound Moisture: They keep the wound moist, promote healing, and have autolytic debridement properties.
5. Pressure Cushioning: Foam dressings provide cushioning against external pressure.
6. Prevent Excessive Granulation Tissue: They help prevent the formation of excessive granulation tissue.
Foam dressings are suitable for wounds with moderate to high exudate levels, wounds with excessive or prolonged granulation tissue formation, wounds with epithelialization, and stage 2-3 pressure ulcers.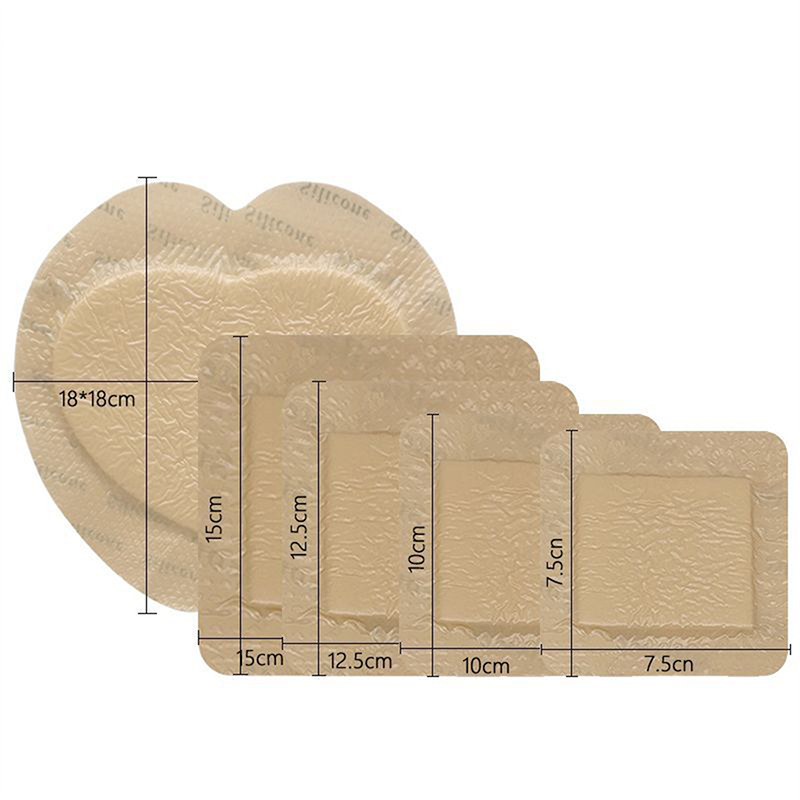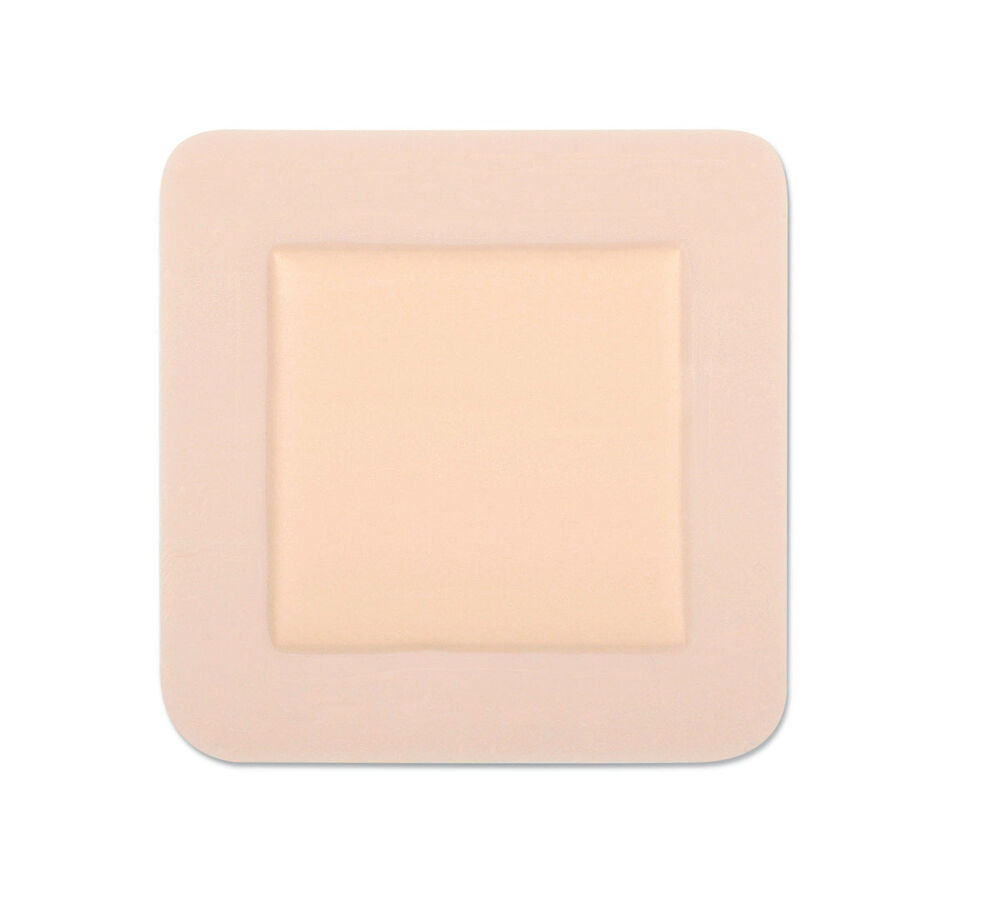 Medical Sterile Non-Woven Wound Dressing
Material: Non woven
Size: 8x10cm, 8x15cm, 8x20cm, 10x15cm, 10x20cm
Color: White
Feature: Strong Adhesion, and Waterproof
Packing: Individual sterile packaging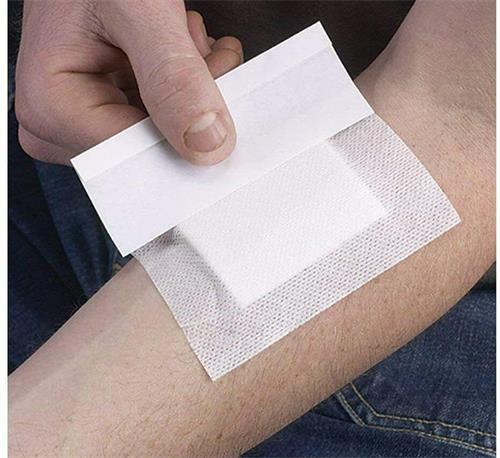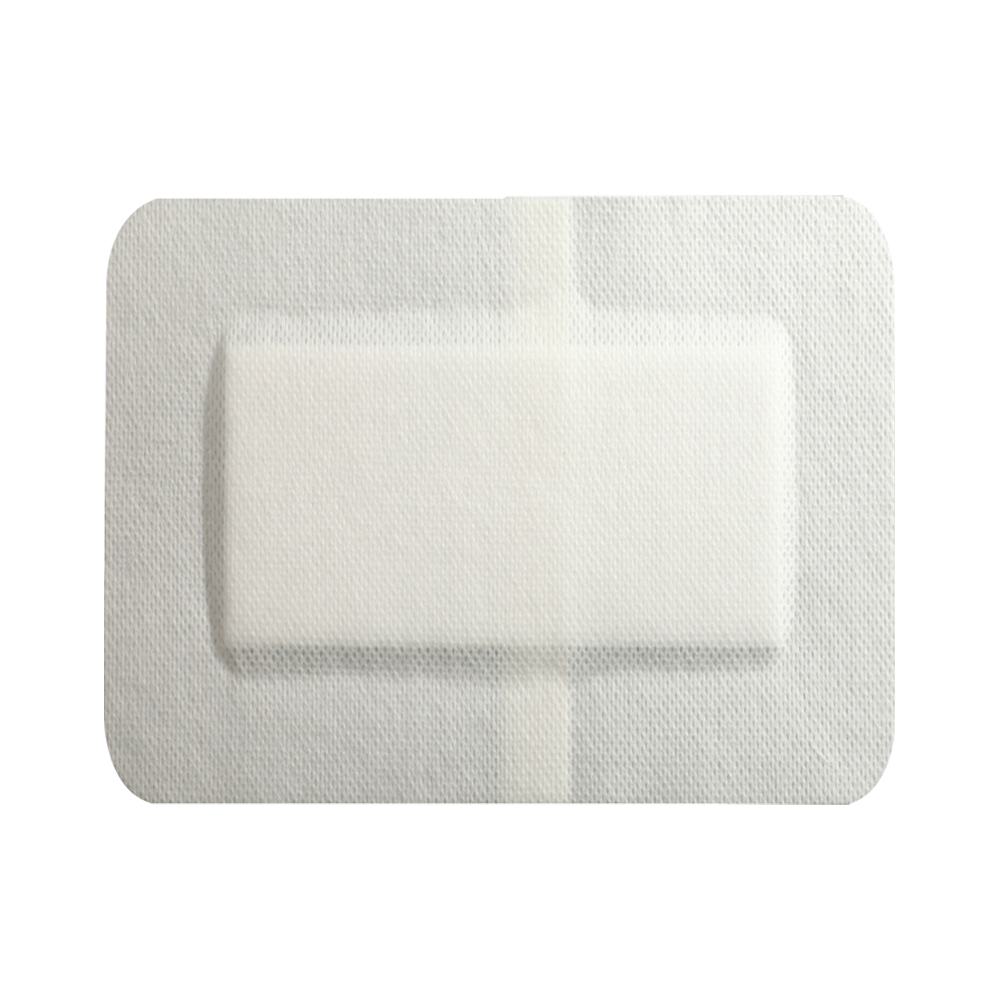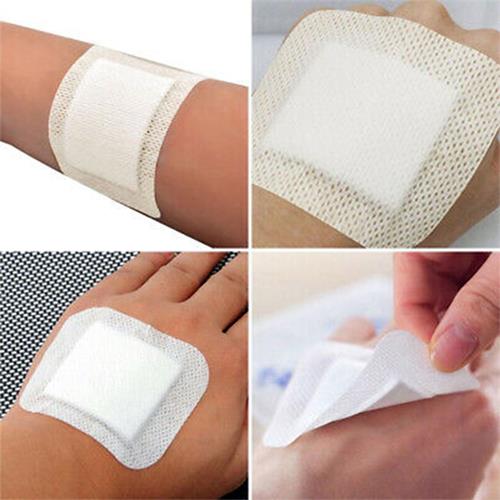 Medical PU Film Transparent Wound Dressing/Medical IV Wound Dressing
Material: Waterproof PU Film and medical acrylate adhesive
Size: 6*7cm or customized
Color: Transparent
Application: Fixation and care of intravenous indwelling needles, catheters, and intubations, and care and protection of minor trauma.
Advantages of PU Film Transparent Wound Dressing:
1. Blocks microbial invasion of the wound, preventing infection.
2. Excellent conformability adheres well even on joints and areas prone to friction.
3. Self-adhesive and transparent, making it easy to apply and allowing for wound monitoring.
Recommended Uses:
Primarily used for securing catheters and needles to prevent infection. Also suitable for superficial wounds with minimal or no exudate and can be used as a supplementary dressing with other wound dressings.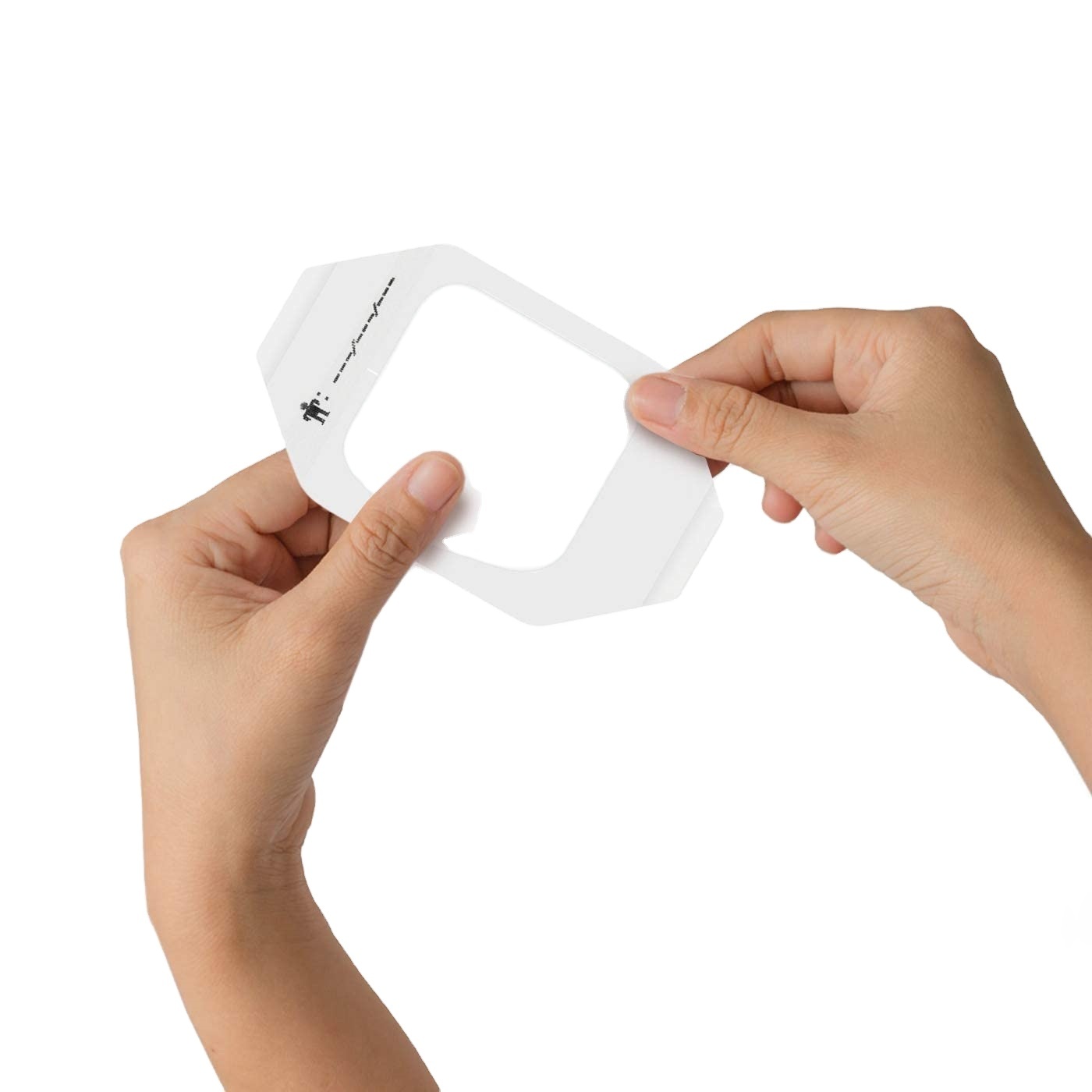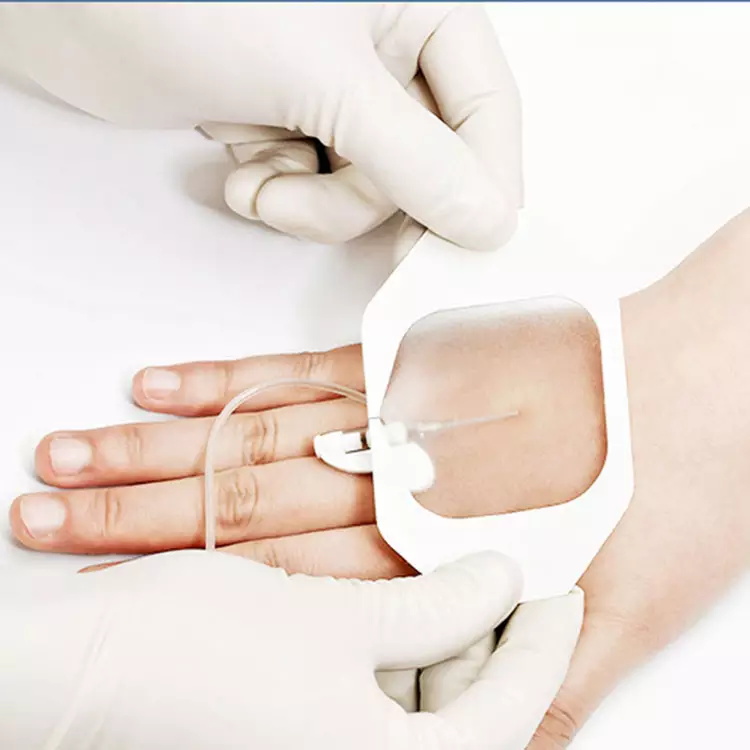 Medical Seaweed Salt Silver Ion Wound Dressing/Calcium Alginate Wound Dressing
Material: Calcium Alginate, Sodium Alginate, Silver Particle
Color: Brown, White
Application: Hospital, Pharmacy, Clinic
Function: Moderately to Heavily Exuding Wounds
Advantages of Alginate Silver Ion Dressings:
Promotes blood clotting and hemostasis.

High absorption capacity, absorbing 17 to 20 times its own weight.

Facilitates autolytic debridement and fosters a moist wound healing environment.

Conforms to the wound bed's contours.

Biodegradable and non-toxic.

Non-traumatic removal of dressings.

Releases silver ions for antibacterial action, controls local infections, and accelerates healing.

Broad-spectrum antimicrobial effectiveness without promoting resistance.

Significantly reduces wound saturation by absorbing large amounts of exudate.
Medical Hydrogel Blister Plaster/Medical Hydrocolloid Blister Plasters
Material: PU, hydrogel
Size: 2.6cm * 6.8cm
Color: Transparent,  White
Application:  Foot Skin Care, Skin Care, Exuding Wounds Care, Burn Wounds
Advantages of Hydrogel Dressings:
1. Facilitate autolytic debridement of wounds.
2. Maintain wound moisture, promoting autolytic dissolution.
3. Non-adherent and easy to remove.
4. Formless gel can fill cavities.
5. Gentle and soothing, helping alleviate pain.
6. Moderate absorption capacity, suitable for wounds with minimal to moderate exudate.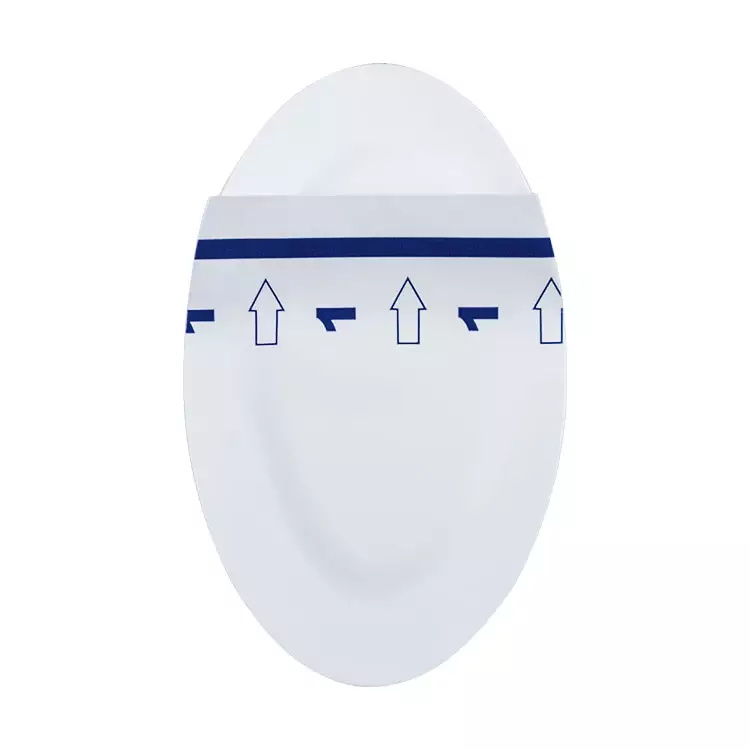 Medical Non-woven Eye Patch/Eye Pad
Material: Non-Woven
Size: 55mmx85mm, 55x75mm
Color: White or Customized
Application:  Hospitals, Pharmacy, Clinic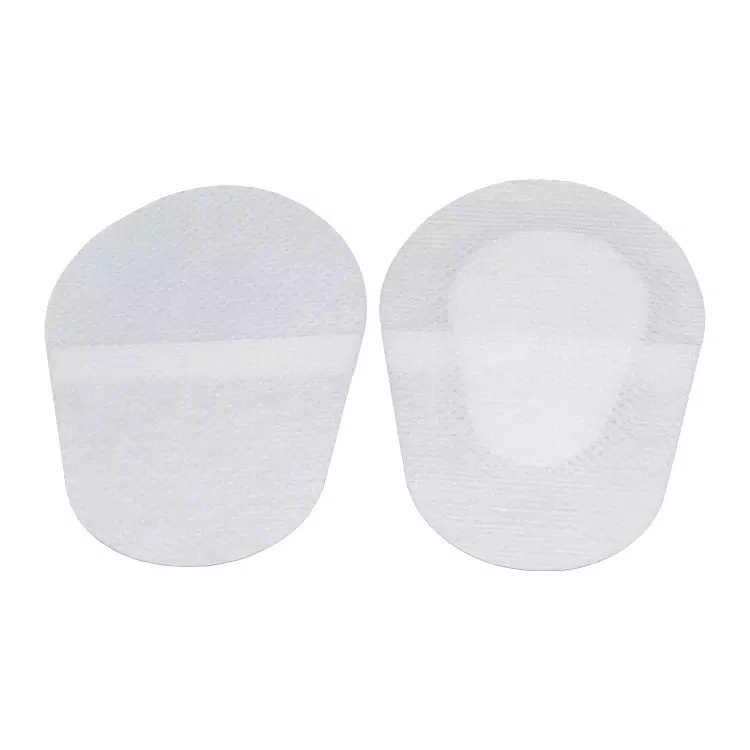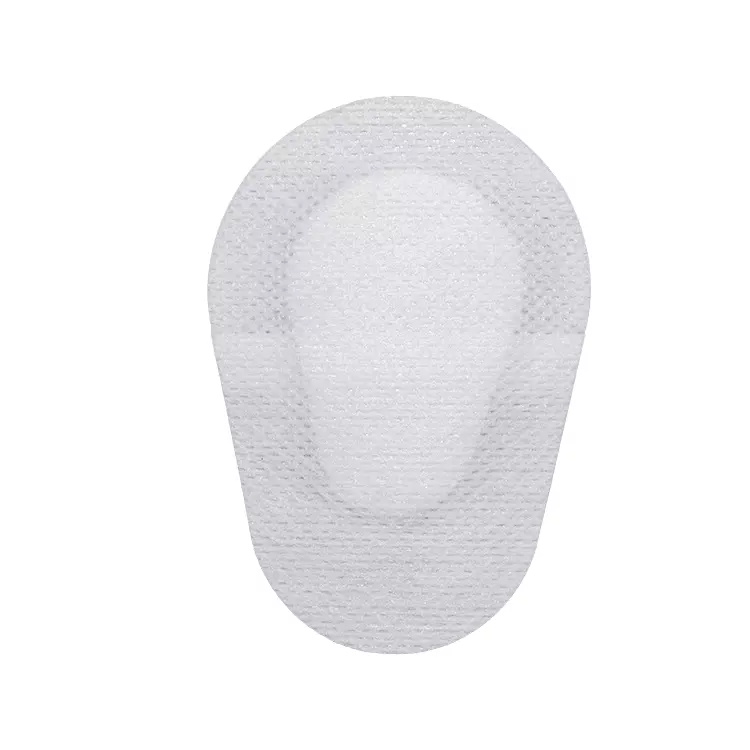 Key Functions of an Ideal Medical Wound Dressing
An ideal wound dressing should possess several essential functions to support the wound-healing process effectively: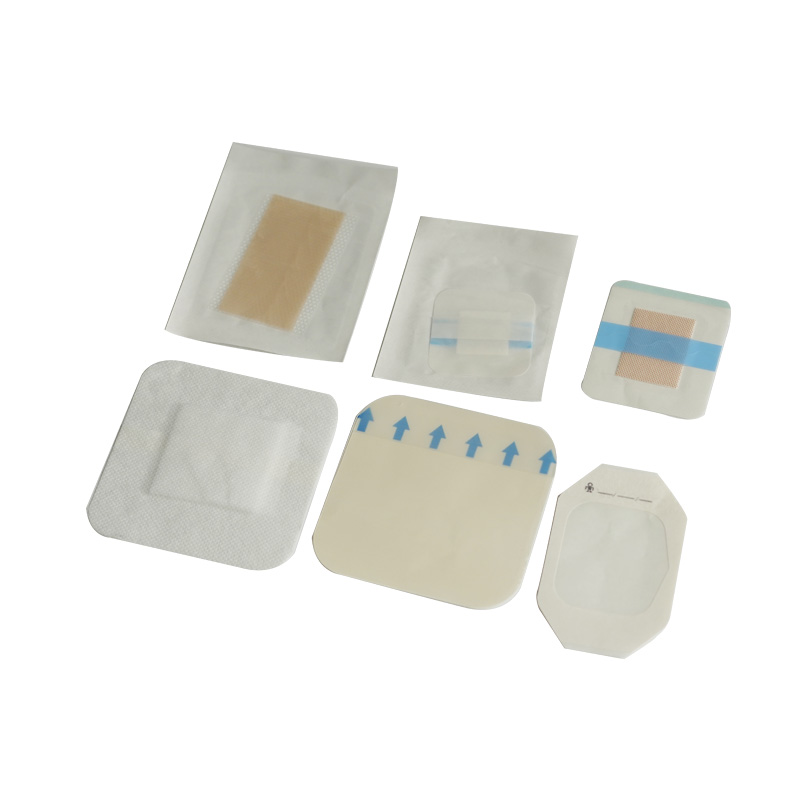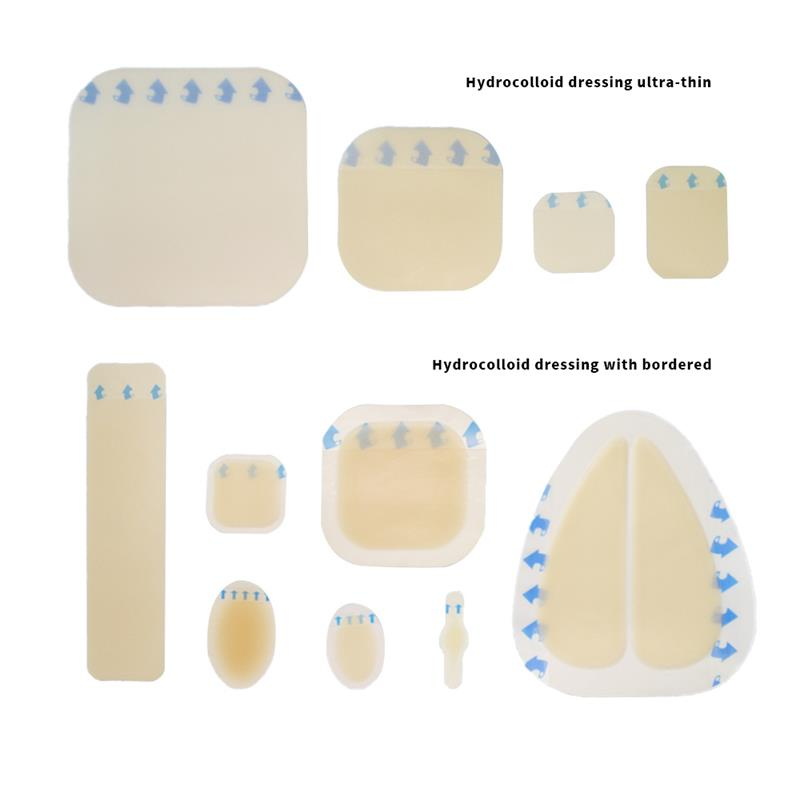 Maintain Dry Periwound Skin, Moist Wound Bed: The dressing should keep the skin surrounding the wound dry to prevent maceration while ensuring a moist environment at the wound bed to facilitate healing.
Absorb Excess Exudate, Fill Dead Spaces: It should have the capacity to absorb excessive wound exudate, helping to maintain a balanced moisture level and fill dead spaces within the wound.
Debride Necrotic Tissue and Exudate: The dressing should aid in the removal of necrotic tissue and excess exudate from the wound, promoting a clean wound bed for healing.
Provide Protection Against Bacterial Invasion: An effective wound dressing acts as a barrier, protecting the wound from bacterial infiltration and minimizing the risk of infection.
Maintain Constant Temperature (37°C): To promote optimal healing conditions, the dressing should help maintain a consistent temperature close to the body's core temperature (37°C).
Offer Stability, Pain Control, and Hemostasis: It should provide stability to the wound site, control pain, and support hemostasis, especially for bleeding wounds.
Facilitate Debridement: Some dressings aid in the debridement process, helping to remove dead tissue and debris from the wound.
Enable Medication Delivery: Certain wound dressings can assist in the delivery of specific medications into the wound, promoting healing and reducing pain.
Frequently Asked Questions (FAQ) about Medical Wound Dressing
We would love to hear from you.
To Get The Latest Medical Consumables Solutions